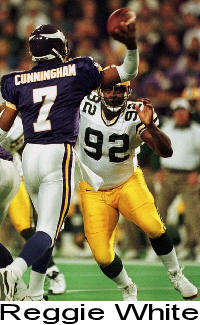 I didn't get into football until my early 20, I wasn't into sports much before that but as my social crowd changed that changed. The people I was associtating with during that period were football fans and it was because of them that I developed an intrest in the sport. At first I was a casual fan but now I'm a pretty avid one knowing most the players on GBs roster and other details about the team and a lot of other information from around the leuge.
Shortly after I turned 20 I moved into a four plex and got into the habbit of hanging out and playing video game's at my next door neighboors. We played a lot of video games, and when football season rolled around we started playing a lot of one of the early Madan game's. At this point I didn't know a lot about the rules or strategies, which was important to calling plays so needless to say I lost most the time. At this same time the Shoe company Niky was running a commercial were a guy would excitedly explain how Reggie White would work over offensive lines and sack the QBs of other teams. At the end of the commercial he would simply scream Reggie Whites name. I got it stuck in my head, and one day when it was my turn to play I chose GB thinking of this commercial, I was up against Chef an avid Dallas fan, when I got onto the defense I cycled through the players till I found Reggie and played him. By this time I had learned enough about the game to be somewhat competative and Reggie turned out to be every bit as bad ass in the game as he was in real life. I got like my third or forth win ever and first against Chef so after that Green Bay was my team. Maybe it's not the most traditional way to become a fan but Idaho doesn't have a team so you have to pick them up how ever you can.
It took a few years before I really developed a solid desire to follow the game and GB all the time but eventually I was drawn in completely. I really liked Reggie Whites character, he was an ordained minister, I'm not that religius but I always thought that was a cool attribute for someone playing a high profile sport to have. Also Brett Favre had joined the team I'll talk more about him later, his play style did a lot to make things intresting. Football is an up and down thing as I soon learned, after GB won the super bowl Packer fans had to endure some pretty rough times. When the team got beat by Denver in Super Bowl 32 things declined bad. We made it too the play offs a # of years but it was mostly do to our division being pretty week, not us being that good, eventually we couldn't even achive that. Buy 2004 things had hit a low point but I still sat through all the games, it was like a bad addicttion. In recent years it's been better including an apperance in the NFC play off game last year, lost that, but oh well shit happens.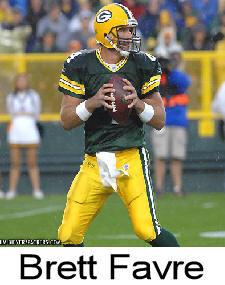 Yeah, Brett Favre, I don't think you'll ever see a Green Bay page thats current from now until the end of time that dosn't at least mention him. Unique is the best adjective to describe him, his play style, attitude, his person in general. In the game he was wreckless and unpredicable, capable of pulling off plays of that wouldn't even cross the minds of other QBs. His right arm is a canon that can throw a ball so fast he actually broke the fingers of recievers catching it and one unlucky Eagles safty that intercepted him. He holds many records, the most completions, the most touch downs, the most interceptions, yeah that one kinda sucks. With all that he's been the face of the Green Bay Packers for 16 years, never missing the start of a game and becoming a legend. It was a shock to everyone when he annonced his retirement in March of 2008. I guess it wasn't as much of a shock when he came out of retirement, then the soap opera started the end result of that drama was Brett Favre landing in New York with the Jets. I would be lying if I said I didn't get a lump in my throat the frist time I saw him in a Jet's jersy. I like the guy it's pro sports and that shit happens, and as long as he didn't end up in Dallas or Minasota I wasn't going to be that upset. Any way was Reggy that got me into the game and the team and he retired from the Panthers not GB after a similer but less public unretirement so it's not like I wasn't preparred for it.
So we enter a new era for this Cheese head, I don't know if I can actually call myself that since I'm not from Wisconson but any ways, this will be the first year since I started rooting for the Pack that Favre won't be the QB. Aaron Rodgeres will start the season which I'm stoked about after the way he handled himself against the Dallas Cowboys this past year, when Favre was taken out of the game after being hit in the arm on a sack. The rest of the team that took us to the NFC championship is still there, he has one hell of a reciving crew, they had the most yards after reception last year. Plus a defense that is only getting better every year. What will really count is if he can just ignor the hype and play the game and not push to hard.