---
Update December 16 2008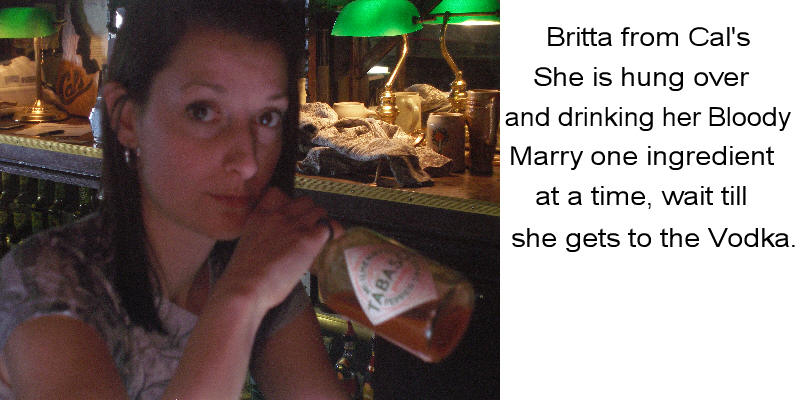 Ok so time to do an update on this page, first off if your wondering why I'm writing about Mountain Home Idaho it's because I work up there every other Saturday and it gave me the idea to start writing about some of the smaller towns around Boise. I clean beer lines so I'm in and out of a lot of bars and get to meet a lot of people. What I'm gonna do for a while is just write about some of the individuals I talk to and what bars they work at. Two of the last ones I do are Cal's and the Stock Yard, Britta is one of my favorites to BS with she's cute and intresting, and also hung over most the times I see her. Wish I was still a drunk I would go up and party with her one night but since I don't really drink like that any more I'll just have to listen to her stories. Actually now that I'm thinking about it, I probably don't want to drink with her, I would most likely be in over my head. Any how she works Saturday day shift so if you in town swing by and say hello to her.
The Stock Yard, this is more of a Night club in my opinion large bar lots of beer taps, live music some nights DJs the others, nice sized dance floor and plenty of cramped seating. I have herd from varius people, (yes they will go unnamed) that this Bar is one of the top three in Mountain Home, if I ever make it up there on a weekend I plan on finding out. Ok onto the main story Kelly is an individual that I don't think works there, but I see him there a lot, he's a Lions fan. Being that I'm a Green Bay fan I like to give him some shit about his team, both GB and the Lions are in the NFC North. He told me about a month ago he was going to get a tattoo of Detroits logo, I didn't think he was serous, he was. Now the bastered has me honestly thinking about getting the Green Bay Logo tattooed soem where, after this year maybe on my ass. Any how here is a pick of his ink, I'll have some more picks of both these bars and some more too write about after this Saturday.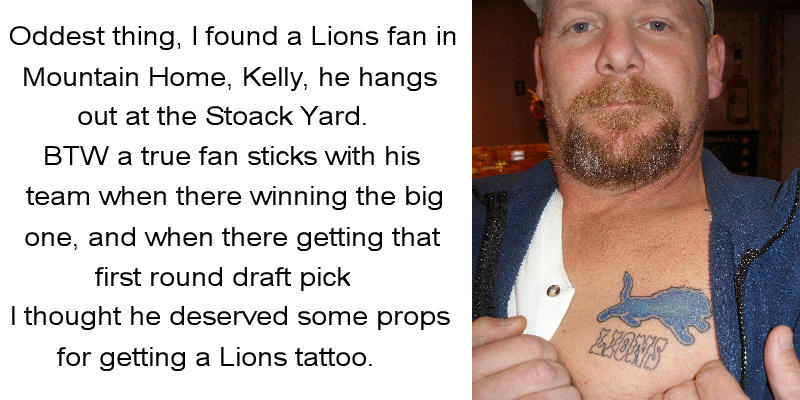 ---
Moutain Home Blog, 4/12/08.
First blog, gonna start with Mountain Home. I was working here the other day and had some time to kill so I took my Camera and went looking for something to write about. Not a lot in that town out side of the Air Force base, It's like a lot of the towns that surround Boise. The downtown area is lined with builds that were built during varius decades in the cities history, a few new one's stand on lots by themselves. The older ones though, they are packed together, brick wall to brick wall. Even though there is no space in between them each is an idividual strucuters. Towards the end of North Main St. one has been demolished, with this building gone I'm reminded of a row of bad teeth a gapping whole were one is missing. You Enter Mountain Home from I 84 on Main St, at first passing house on the left with rail road tracks on the right. An old Motel that screams 1973,is the first sign that you are entering the commercial area of the town. Albertsons has a store here, it is here were Main turns into a one way street, it's past this that I found something to get a picture of. It's a bright yellow caboose, think of the last time you used that word, if ever. I have herd that Mountain Home was a railroad town, so this kinda fit's I got a photo of it, and the two plaques that stand infront of it. All three pictures are posted below. Since I don't think I have ever spelled the word Caboose so I googled it to make sure I got it correct and found a Wiki spot. I'll post that link at the bottom. Judging buy the pics on that site I would have to assume makeing these things into exibits or memorials is some what popular. Any how, I'll be working in this area again in a couple of weeks mabey I can get some more photos. This is the end of this blog for now. Since it's my first I have to see if I can post it properly and get the photos on the page as well.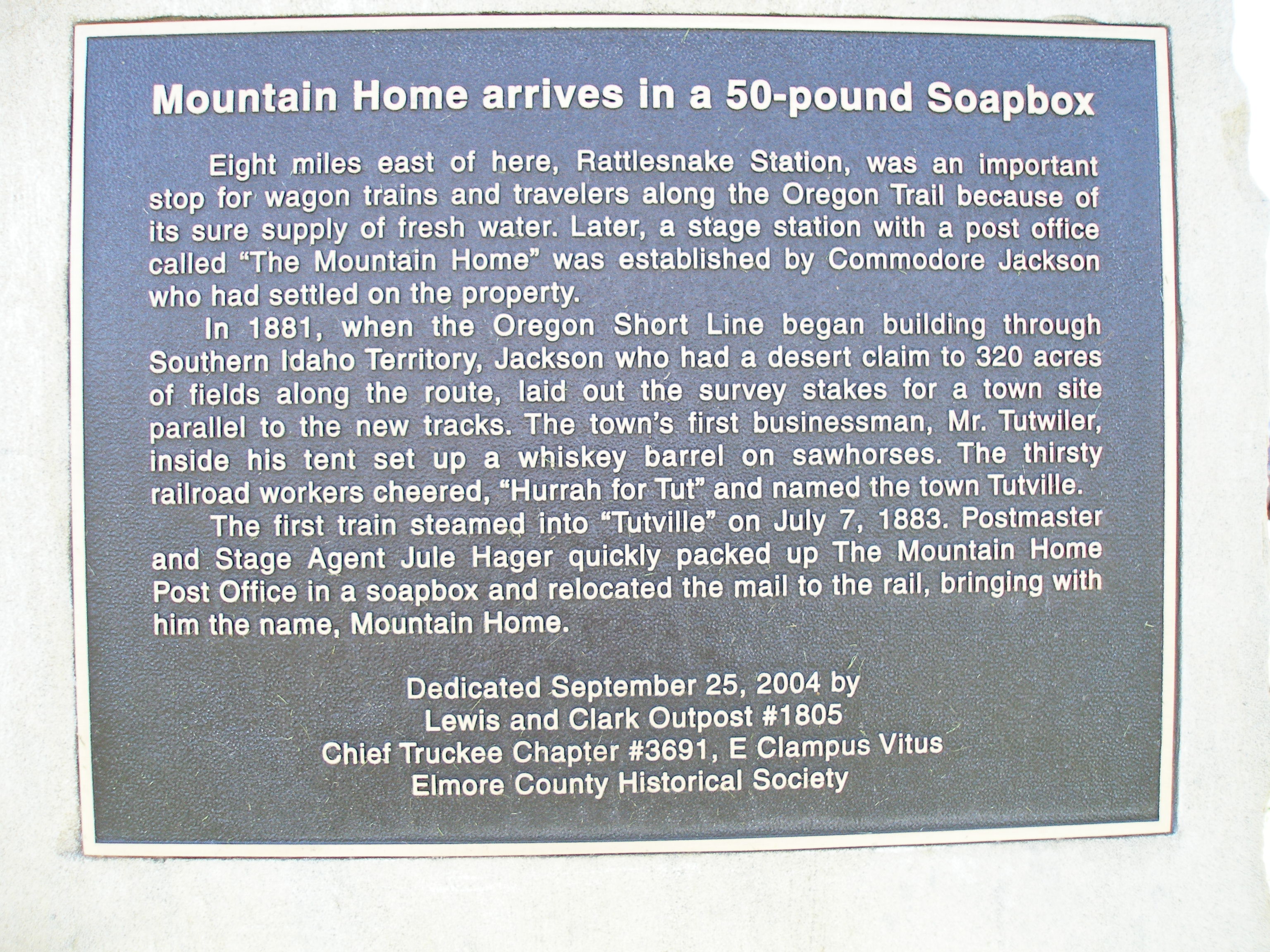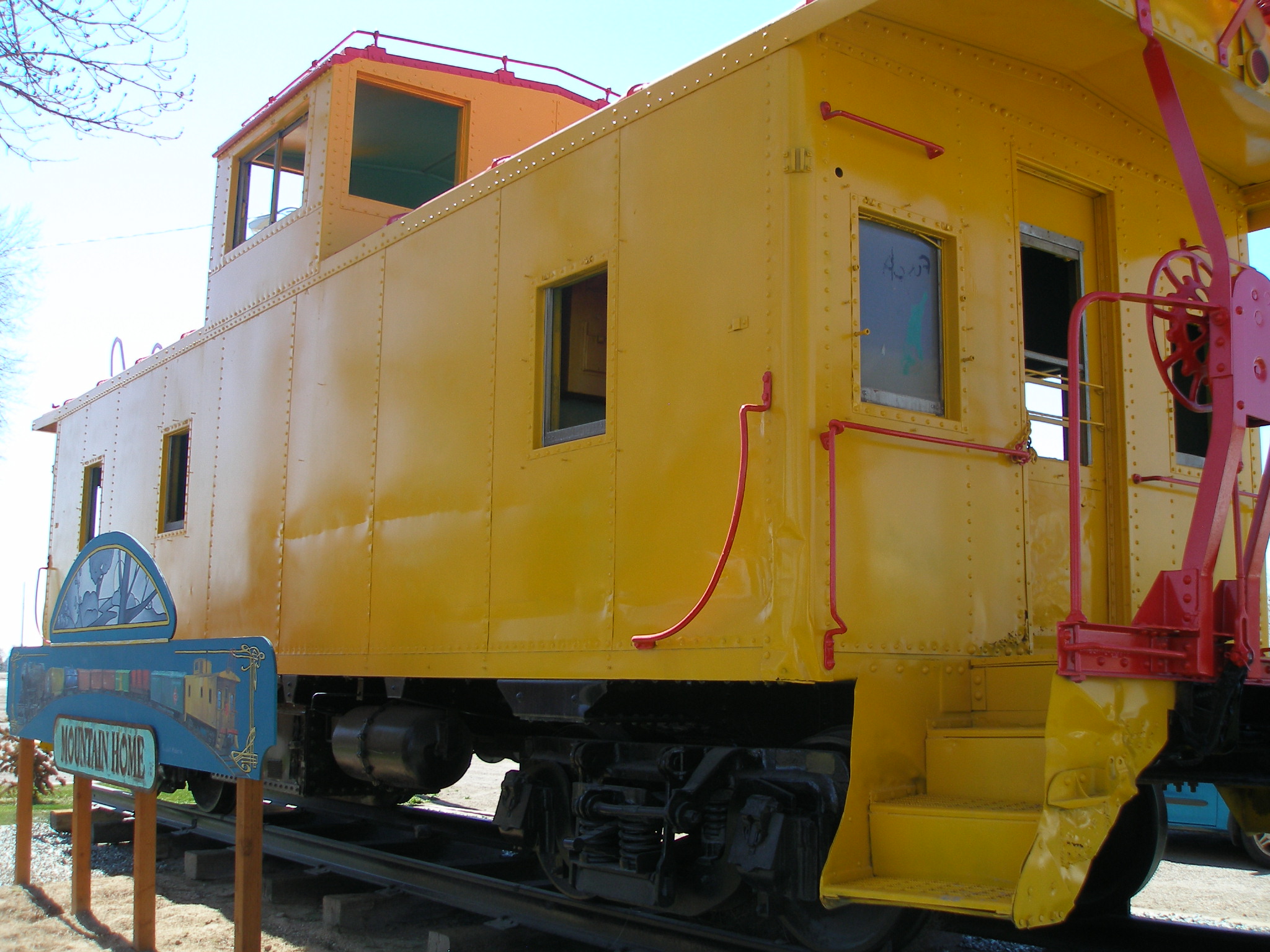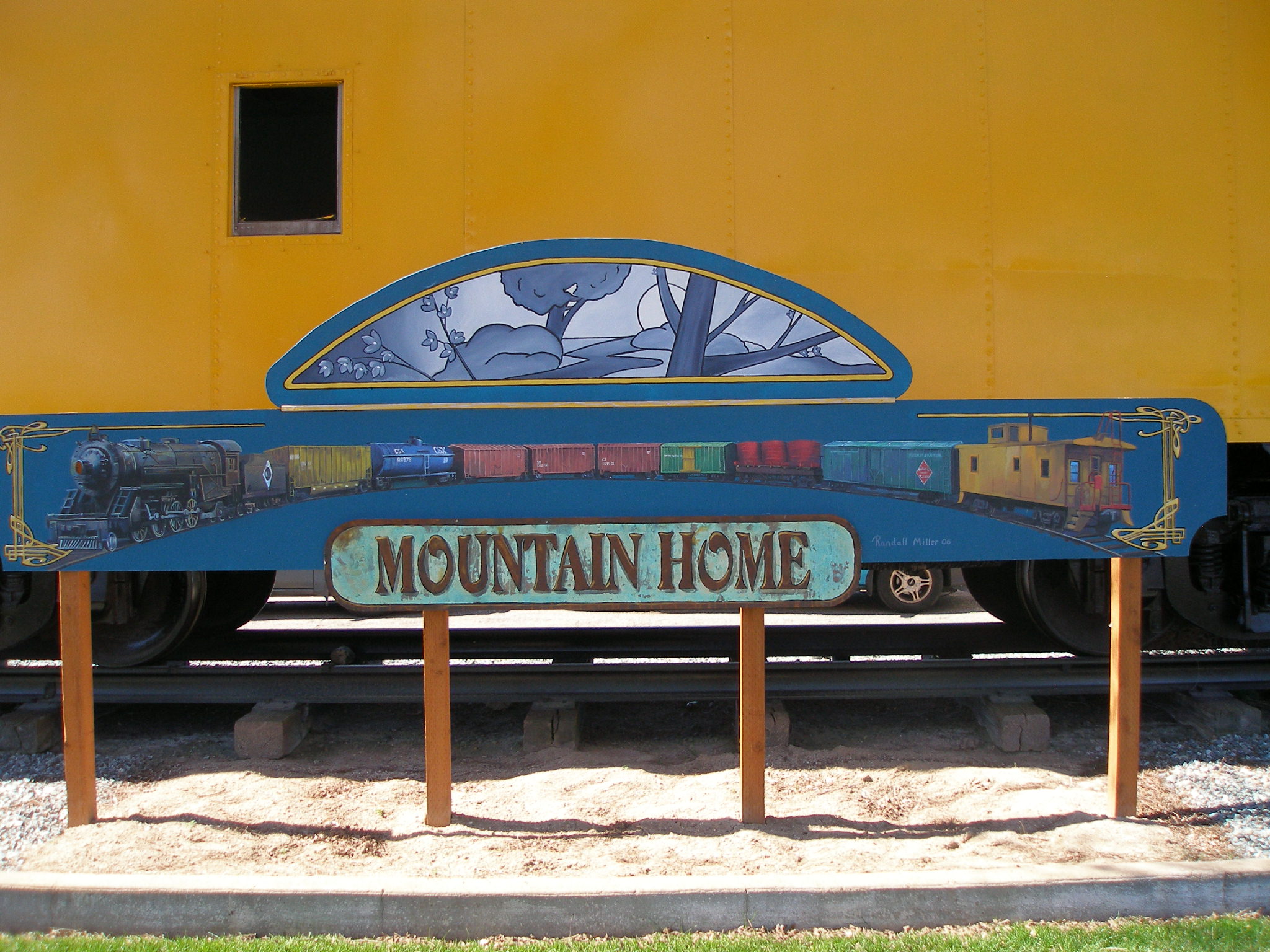 ---
Home
Blogs